About us
Our story began in 1999. Our facilities, capacities and options were limited, but we were driven to grow by enthusiasm, a desire to do things honestly and to keep improving. This is how we became successful. Today, in the new production building, we produce packaging for our clients using the most advanced technology on the market. Our founding values ​​remain part of our DNA. We combine the attitude of a family business with the facilities of a large corporation. Thanks to this, we can make the best products for you and provide you with perfect customer service.
Our values
First-class quality
Innovation
Reliability
Helpfulness
Speed
Comprehensive customer service
Our vision
To have the best product
To stay on the cutting edge of technology
To fulfill any clients' wishes
Give employees a chance to grow
To protect the environment
To be simply the TOP
Packaging for medicines and food supplements requires an exceptionally stable quality of processing and it was a major challenge for us. The ever-increasing number of big clients in this field proves that we succeeded. In addition, our customers appreciate our flexibility and trustworthiness.
Why are we TOP?
Thanks to our advanced equipment, we produce packaging exactly according to the approved layouts and color without fluctuations in quality. And if something goes wrong, we check the products in several stages. The Accucheck visual inspection technology also helps us with final gluing, which is 100% successful. We ship only absolutely perfect products to our customers.
Our gluing line with the Accubraill system embosses Braille characters in folding packages at full production speed.
We also offer
In our design office, we provide complete solutions for almost any kind of packages, including sampling in small series. You can test the functionality of the packaging, its transporting options and durability of the material in advance.
The packaging sells. For cosmetics, this rule applies more than for other types of goods, and it is also subject to fashion trends. We must therefore constantly monitor them in order to be able to offer truly luxurious packaging that simultaneously meets the requirements for transport and protection of the contents. We offer all currently available finishing technologies.
Why are we TOP?
As one of the few companies on the market, we own the Prindor technology for uncompromising metallic effects. Cold embossing directly in the printing machine is very fast and takes the appearance of packaging to a whole new level.
Our range of varnishes is extremely broad, from very effective varnishes in UV mode to a complete range of direct paints, including metallic and UV hybrid paints. Thanks to that, we are multiple winners of the prestigious Packaging of the Year and Design Touch awards.
We also offer
We have expanded our equipment with a window box with a unique corner window technology, which further enhances the impression of the product inside. In our design office, we will be happy to help you with a specific design, including the production of mock-ups.
With these products, we must pay attention to absolutely perfect production hygiene. Packaging must never contaminate food and beverages. This is why we use special materials and production processes. We have many years of experience with the complexity of these tasks and we can handle even the most difficult tasks.
Why are we TOP?
We have gradually improved the range of packaging techniques for food and beverages so that we can comply with all the principles of working with food throughout the following chain. We guarantee the high standard of sanitation required in this field.
Here, too, the packaging sells. Thanks to our finishing techniques, it can look better than ever while maintaining all the required properties. Our designers will design a tailor-made package for you, including full-fledged mock-ups to test key functions.
We also offer
An increasing number of customers prefer to print on the reverse unpainted side of the material to achieve a natural look. Thanks to many years of experience, we mastered this technique without significant fluctuations in color or quality.
We will produce any packaging for you, in any size or irregular shape. Various gift boxes, presentation cases and boxes for larger products are no problem for us. All this in a high standard with precise quality control of the delivered packaging.
Why are we TOP?
Thanks to our equipment, we are able to process even complex orders without the need for cooperation. This is why we have quick delivery times with flexible production planning. You can count on our extraordinary flexibility.
For more complex packaging exactly according to the dimensions of a specific product, you can employ our design office. Just give us the product you want to pack and we will design the best tailor-made solution. We will prepare mock-ups, including inserts in the quality of the final packaging, to control transport, storage and other properties. We will do everything for your maximum satisfaction.
We also offer
We will also provide you with technical support for further processing of packaging in your filling machines and lines. With us, customer care does not end with a shipped order. We strive for long-term cooperation on the basis of mutual satisfaction.
Certificates
Quality management is a key priority in our corporate strategy. We monitor quality at all levels of the technological process. We get audited by an external company and we regularly evaluate the results. We audit our suppliers.
We work with the Secondary School of Graphic Arts in Brno, which prepares its students for employment in the printing industry.
We proudly cooperate with the Center of Social Services for the Visually Impaired in Brno – Chrlice.
How the packaging is born
Assignment
Come to our place to discuss your ideas with us. How many packages you need, what size will they be, what functions must they perform. Of course, we will also talk to you about design.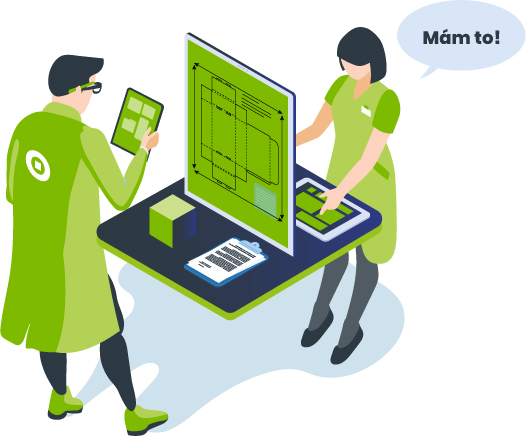 Analysis and optimization
Our designers will design the appropriate package size and shape. They will choose the optimal sheet size and technology to make the packaging functional while meeting your appearance requirements.
Job design draft
Here we will talk about the price and dates. You will receive a detailed calculation and production plan. We will fine-tune all the details together and conclude the contract.
Implementation
We will get to work. We order the material, print it, hand it over for cutting and gluing. The packaging will be sent to you within the agreed delivery deadline.